Chroma Key Guideline
Your purchase may require you to submit a Chroma Key video and this section outlines some tips which you may want to consider while shooting for the Chroma key video.
Basic 3 Point Lighting
Good lighting is very important if you want the end result to look good. Ensure good lighting is available when shooting the video, and have the light sources setup as shown in the illustration below. You may tune the intensity of each individual light to get a balanced color.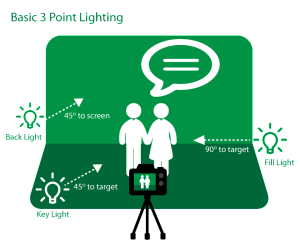 Green Screen
It is very important to have a green screen setup correctly so that we can take out the background during our post-production process. You may use a big piece of cloth, paper or anything of your choice. Just make sure that it has a solid, clean and distinctive green color on it.
Make sure that all objects including body parts, feet and other items are within the green screen area for the whole video. Do not wear clothing, accessories or have any objects that has green color in them, or they will be removed from the video during our post-production!
*Note: We can provide Chroma Key video shooting services free of charge for customers in Hong Kong.